The product has been added to cart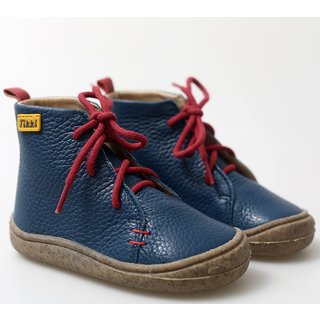 Barefoot leather boots - Beetle - Blue
Size:
SKU Code: BEBLU
€46.43
Barefoot leather boots - Beetle - Blue
Optimal toe space
Very flexible natural rubber 3mm sole
Chrome free lining
Shoelaces for optimal adjustment
Thick natural leather
Dense wool insole
Ideal for spring / autumn
Disclaimer: The Beetle Boots have a different size guide, you can check it here
195.00
€46.43
This product worth 195 loyalty points.
Every success story begins with a tiny little step. Just look at a Beetle - our natural influence for the all new Tikki Shoes kids leather boots. It's so easy to pick one you love because for every five creatures on Earth, the fifth is a Beetle. Yes, you read that right.
We have, thus, proudly named our new barefoot boots after the amazing Beetle. It is great responsibility to compare something with the most important organism on Earth. Yet it's also awesome to live up to something as resilient, strong, useful, versatile and cute as the Beetle. A long, long period of research and development is what we took to insure that this kids footwear model truly celebrates its inspiration and your trust in choosing it.
The brand new Tikki Shoes Beetle displays a very fashionable shape, stylish sole, maximum flexibility, the best materials and an optimal price-quality balance. Everything brought to completion in six color options: ultramarine, tourmaline, brown, fuchsia, pink and cream.
In accordance to the Tikki Shoes quality footwear concept, the Beetle kids boots are designed with both comfort and foot health in mind. Featuring the introduction of natural rubber soles, our dear healthy footwear reaches yet another level in the search for an even more harmonious development of those most loved tiny feet.
Tikki Crafter's insight: the Beetle model is now manufactured only in the 19-23 sizes, but will be also available for older kids, sizes 24-32, as soon as the larger molds are perfectly calibrated.
Leave a comment or write a question
Only your comment and name / nickname will be published.
Your email will stay private.
What does Barefoot actually mean?
Barefoot shoes are those that allow the feet to move naturally, as close as possible to walking barefoot. Barefoot shoes have the following characteristics:
1. ZERO-DROP - the sole is perfectly flat , with the heel at the same height as the ball of the foot. Raising the heel throws off the alignment of the spine, and forces an unnatural heel strike.
2. FLEXIBILITY - they have a highly flexible sole, allowing the feet to move unrestricted, in order to become stronger. By comparison, in a stiff shoe, the soles hardly bend, and this eventually leads to muscle atrophy and pain.

3. THIN SOLE - the thinner the sole of the shoe, the more information our brain can receive through the neurotransmitters located in our feet. This is essential for optimal proprioception (our body's awareness of its own position and movement), perfect balance and finding the best posture depending on the type of surface you're stepping on.
4. WIDE TOE BOX - plenty of room for the toes. The more space the toes have to splay, the better the overall body weight distribution and posture. The role of the big toe is very important, as it supports the whole body. Try a simple exercise: do a few pushups supported by your hands, with your fingers closed in a tight fist - you'll notice that it takes a lot more effort and your body position will feel unnatural.
5. ZERO SUPPORT - no orthopedic support recommended. Barefoot shoes have no arch support, no shock-absorbent cushionings or other market innovations. If supported and unnable to move naturally, muscles gradually lose strength, and this leads to painful and weakened feet.
6. NO STIFFENERS - shoes made from a stiff material that doesn't mould to the feet, won't allow them to move freely. It is best for the shoe to mould to the shape of the foot and not the other way around. This is the reason why barefoot shoes are made from soft and flexible materials, without cardboard or plastic stiffeners to preserve their shape over time.
What is the difference between Barefoot and Minimalist?
Although our main focus is Barefoot shoes, we also have Minimalist ranges. These shoes meet all the requirements above, except for the fact that they're not as flexible as the Barefoot shoes, and have minimal stiffeners for durability. They are especially designed for older children or adults, who need their shoes to be more hardwearing and able to cope with heavier use.
Tikki Shoes products are entirely manufactured from natural leather and so must be cared for in the manner usually applicable to leather footwear, with a few exceptions:
1. You must not wash the footwear in a washing machine! Due to rather long washing cycles, their duration usually exceeding an hour, the leather is submerged in water for too long which can result in its scaling and shrinking when drying. Additionally, the risk of colour transfer increases in contact with water. Tikki shoes should only be cleaned with a leather care product.
2. The velour leather sole of indoor footwear requires periodical cleaning when the surface becomes dirty or greasy, causing the fine velour leather hairs to stick together and no longer adhere to the ground. You must not clean them very frequently, only when you notice that the footwear starts slipping on floors.
In this case you must use a damp cloth or wet baby wipes and a hard-bristle brush (e.g. a nail brush, barbecue brush, etc.). You must clean the sole with the damp cloth or wet wipe (you must not rinse the soles with water because that would increase the risk of colour transfer), let it dry, and then rub the sole with the brush until you see the fine velour leather hairs stand up again.
3. The leather on the sides of baby shoes/outdoor footwear/sandals/boots must be cleaned only with a leather care product.
4. The drying must occur slowly and exclusively at room temperature: avoid drying the footwear next to heat sources (radiator, stove, fan, fire, hair dryer or other heat sources, or by exposing the footwear to direct sunlight) which would harden the leather and cause scaling on its surface.
5. Do not use bleach, detergents or solvent-based solutions to clean the footwear.
Both Nappa and Velour Leather Footwear must be cleaned only with a special leather care product.
The outdoor footwear is not waterproof and so we recommend its use with dry weather. The sole and sides of the outdoor footwear must not come in contact with water, snow, sand, gravel, solvents, tar, soft bitumen or other corrosive materials. Avoid getting caught or stepping on sharp metal objects, stones, glass shards, oils, fuel, and thinners. The warranty does not cover damage resulting from poor roads, footpaths or pavements, or from using the footwear on other rough, abrasive or corrosive surfaces.
We are not liable for damages resulting from not following the above mentioned instructions, or for discomfort resulting from wearing the wrong size or model/fitting of shoes.